Looking to add something different to your backyard space? Custom swimming pool construction in Lexington, KY by R.W. Thompson Landscaping could be the answer. A custom built swimming pool can give you the opportunity to create your own backyard escape. R.W. Thompson Landscaping offers plenty of swimming pool designs to choose from that will align perfectly with your backyard landscaping and the layout of your lot. R.W. Thompson Landscaping also offers other hardscape elements that can complement your new swimming pool including fire pits, outdoor kitchens, fireplaces, walkways, stone walls and much more.
If you are looking for a pool and an outdoor living space nestled into a beautiful landscape, then you should give us a call at R.W. Thompson Landscaping. When you invest your money in a backyard pool and outdoor living environment, you want the best company that can exceed your dreams for both vision and quality, creating a backyard oasis that you can enjoy for the rest of your life.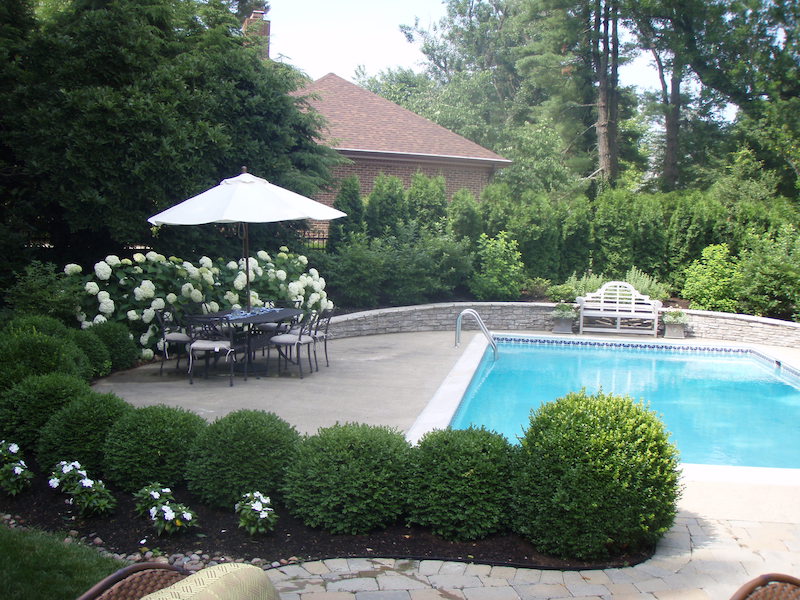 For over 20 years, R.W. Thompson Landscaping has been helping homeowners to redefine the meaning of outdoor living. Through our steadfast commitment to design excellence, unique plant combinations and quality execution, we have earned the reputation of being a premier landscaping company in Lexington, KY. We work with homeowners' residential exterior design of landscape, hardscape, outdoor living, custom swimming pool design and installation as well as decorative stonework.
A swimming pool can complement your home's exterior and create a place for family and friends to gather, socialize and relax. R.W. Thompson Landscaping can help you with everything from initial pool design to the installation of your new in-ground swimming pool to ensure you get exactly the result you want. Your swimming pool should be a completely personalized feature that meets both your aesthetic and functional preferences.
When it comes to actual construction of your swimming pool, R.W. Thompson Landscaping in Lexington, KY begins with a consultation and property analysis. Each project we do is a personalized design in harmony with your home and its' outdoor environment. Exacting design details, construction documents and material specifications are created to facilitate a smooth construction process of your new swimming pool.
Our team at R.W. Thompson Landscaping works with our customers to design their dream pool to fit both their budget and lifestyle. We build custom designed pools. We also offer any type of hardscape that you prefer. We are a very hands-on company providing quality supervision throughout the entire construction process.
Many of Lexington's finest outdoor living spaces are created around a great swimming pool. Swimming pools are the most sought after element in outdoor retreats. Depending on your preference and space, your pool can be large and sophisticated or intimate and cozy. An ample deck of stone, pavers or decorative concrete will generally surround your custom pool to enhance your environment.
At R.W. Thompson Landscaping, we take great pride in a thorough collaboration with you to plan, design and execute your ideas with superior craftsmanship provided by our team of consummate professionals. We believe in a balance of functionality and aesthetics and we take the time to understand your lifestyle and objectives to make sure that our design encompasses all of the necessary elements to meet your requirements and exceed your expectations. While your new swimming pool will be the focus of your backyard retreat, our team will help you develop an entire, custom, outdoor living area surrounding your pool that will integrate together seamlessly.
When you hire R.W. Thompson Landscaping, you're hiring a team of professionals who will deliver lasting value to your home. When it comes to swimming pool construction in Lexington, KY, call our office at (859) 260-1122 or contact us by cell-phone at (859) 621-8587.