When it comes to patio installation in Lexington, KY, nobody does it better than R.W. Thompson Landscaping. Adding a patio is a great way to expand outdoor living spaces. Having a patio built on your property will allow you to entertain guests outdoors, have enough room for a barbecue or a place to relax under the open sky. A patio investment will last a long time. A patio can be a beautiful addition to your home and an asset that increases a property value.
Your custom patio can expand your living space to the beauty of the outdoors. Imagine mornings watching the sunrise while drinking your morning cup of coffee or watching the sunset with your family and friends in the evenings on your new patio. At R.W. Thompson Landscaping, we take great pride in building backyard patios that meet the exact specifications of our clients.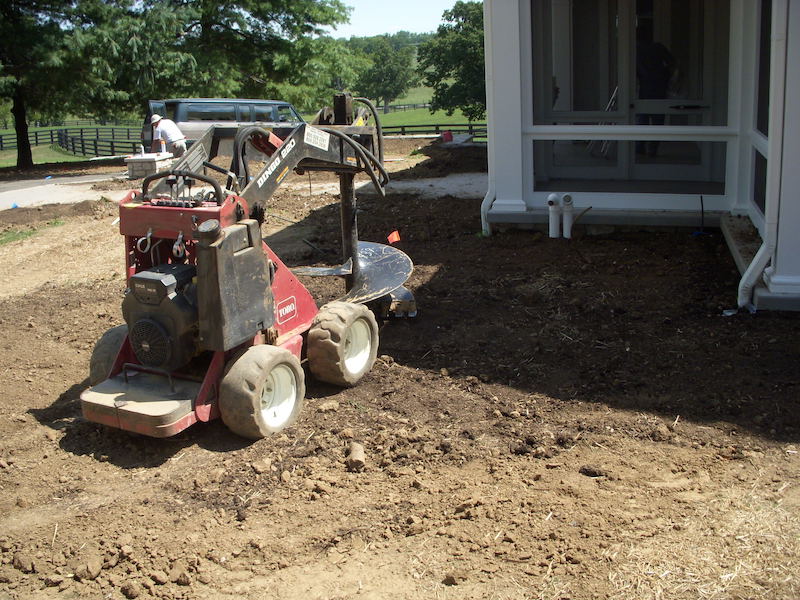 While some landscaping companies can design and install a patio, we take the time to understand how you want to use your new outdoor living space. By sharing with us how you envision your custom patio, you can benefit from our expert advice and learn how to achieve your dream. If you choose R.W. Thompson Landscaping, our team will work with you throughout the entire design and installation process. We will create a custom patio design that will meet your unique needs, landscaping and property layout.
Patios are an essential aspect of any hardscape, stonescape and landscape project. R.W. Thompson Landscaping has created an amazing portfolio of patios for our clients. Patios can be installed in a variety of materials based on your aesthetic preferences, intended use and budget. Our patios range from small to extremely large with the use of stone, flagstone, brick, pavers, travertine and slate. When you call R.W. Thompson Landscaping, our patio professionals will sit down with you and discuss the pros and cons of the most popular patio projects to help you find the material that's right for you.
Pavers can transform a boring backyard into a well-designed outdoor living area. Pavers are widely used products in landscaping projects. These extremely hardy and resilient units can be installed in various outdoor spaces. It's little surprise they are also very popular paving products for patios. R.W. Thompson Landscaping has the creativity and skill to design patios using different types of pavers.
Pavers are the perfect alternative to concrete slabs that offer little character and interest. Paver products also hold a tremendous advantage in durability to concrete and asphalt. You can complement your paver patio with architectural features such as seating walls, fire features, pergolas and outdoor kitchens to take your outdoor living space to the next level.
With over 20 years of experience, R.W. Thompson Landscaping is one of Lexington's premier backyard patio installers. If you are looking for a practical way to expand the outdoor living space of your home and take full advantage of your beautiful backyard, investing in a new patio is a terrific option. We can incorporate a patio or hardscape design into the overall plan of your home and landscape creating an outdoor living space that's exactly suited to your particular needs. When planning the ideal patio, many homeowners want to add another hardscape structure or two, creating a complete outdoor area.
Our custom patios at R.W. Thompson Landscaping work well as part of an outdoor living space combination, around a pool or even to highlight your landscaping. Patios are the perfect space to complete a backyard retreat. Each project and client is different and each design requires an individualized approach. When searching for patio installation in Lexington, KY, call R.W. Thompson Landscaping. Contact our office at (859) 260-1122 or by cell-phone at (859) 621-8587.