When it comes to outdoor living spaces, turn to the professionals at R.W. Thompson Landscaping in Lexington, KY. Since 2000, R.W. Thompson Landscaping has been one of the best companies in the area designing outdoor living spaces. Our team can turn any outdoor space into paradise by complementing the existing landscape or starting from scratch to achieve the desired elements in the outdoor area.
Many of our clients have a good idea of what they want and others want us to share our vision as the first step in the consultation phase. Either way, we will always outline the pros and cons of every idea. Understanding that design is subjective, we pair our experience and vision with your yard and desires and the final product is a beautiful outdoor space.
Our professional landscape designers have the ability to turn any outdoor space into an oasis. Our landscape professionals combine landscape design, creativity, functionality and experience to bring you the best design possible. Our inspired vision comes from immersing ourselves in the outdoors, studying the panorama and complementing existing elements with new ones. Each outdoor living space is unique.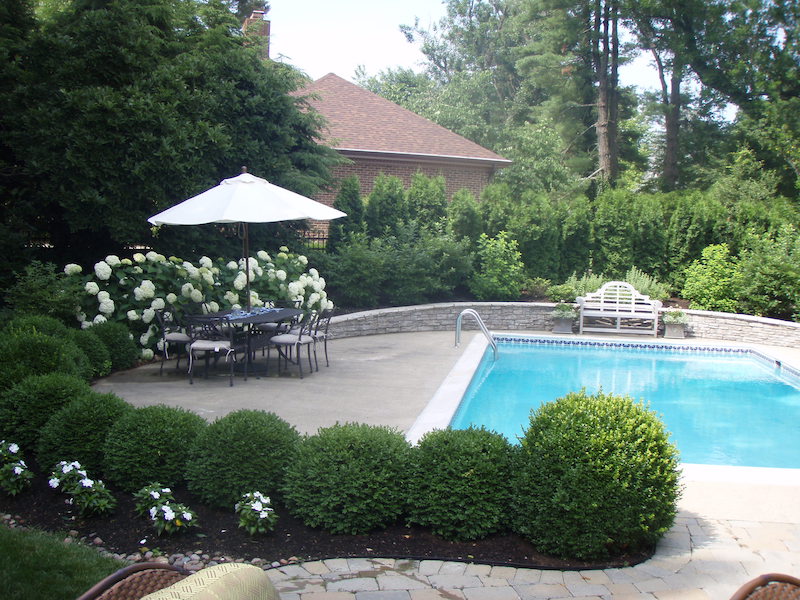 Whatever you are looking for in outdoor living spaces, R.W. Thompson in Lexington, KY can do it. Our outdoor living spaces include decks, backyard patios, pavilions, outdoor kitchens, outdoor fireplaces, stone work, fire pits, gazebos, pergolas and more. We are certified paver and retaining wall installers.
Creating a quality outdoor living space requires an investment of time as much as materials. What defines such a place? It's inviting, comfortable and welcoming. An outdoor living space is simply a great, cost-efficient home improvement. If designed and built right, like R.W. Thompson Landscaping does, you'll have a pleasant outdoor space for three out of four seasons. And you can enjoy your outdoor living space year after year.
The planning and development stage is one of the most important stages in the entire process of creating the perfect outdoor living space. In this stage, we start by generating ideas. We'll sit down with you to discuss your thoughts and plans. We'll look at photos you have to visualize your dream, discuss materials, budget and get to know you, your style and needs for your outdoor living space. Once we have completed our planning of your project we will reach out to you and schedule a meeting to discuss our proposal.
Adding to your home's value is the right thing to do. Then, when it's time to sell, having an outdoor living space makes your home more marketable than residences that don't. Let R.W. Thompson Landscaping help increase the value of your property.
Outdoor living spaces are known for comfortable and relaxing outdoor environments that resemble an indoor room without walls. Creating an outdoor living space with distinct charm, character and appeal is our specialty. We design everything with our clients' objectives in mind. Our experience in creating desirable outdoor living spaces is unequalled in the greater Lexington area.
With over 20 years of proven experience, you can trust R.W. Thompson Landscaping to create an original design you can be proud of. Our commitment to excellence and total satisfaction is what makes R.W. Thompson Landscaping one of the area's leading outdoor living space landscaping companies.
Your outdoor living space represents an extension of your home. We'll work with your vision to create a functional, beautiful outdoor space that complements your existing landscape and home. Whether you're looking for a luxurious entertainment area or a relaxing retreat, our landscape architects can bring it to life.
R.W. Thompson Landscaping is dedicated to providing personalized and responsive customer service to all of our residential and commercial property owners. When it comes to the creation of outdoor living spaces in Lexington, KY, nobody does it better than R.W. Thompson Landscaping. Contact our office at (859) 260-1122 or contact us by cell-phone at (859) 621-8587.