If you are searching for landscaping services in Lexington, KY, look no further than R.W. Thompson Landscaping. Our expert team specializes in both residential and commercial property lawn care. No project or problem is too big or too small for R.W. Thompson Landscaping. We've worked with all types of lawns, resolved all sorts of issues and we can make the landscape of your dreams a reality.
R.W. Thompson Landscaping aims to provide our clients with the landscaping services required to have their ideas come to life and bring them an environment that fulfills their aesthetic and practical property desires. For over 20 years we have assisted hundreds of area property owners realize their goals when it comes to the look and utility of their surroundings. If you've been looking for a reliable company to transform the appearance of your property, you can count on the experts at R.W. Thompson Landscaping.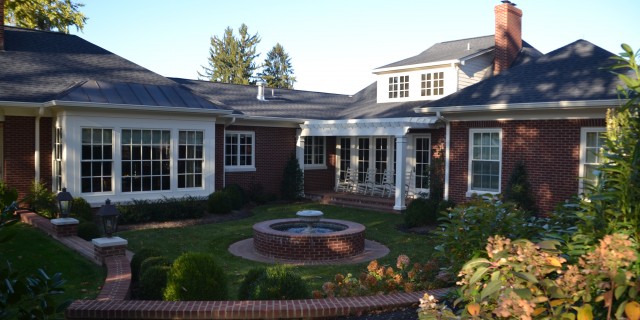 Whether we're starting from scratch or renovating an existing landscape, we like to do things right the first time. This involves tedious planning and a thorough understanding of different factors, like what level of maintenance you desire and what grows best with the type of soil and land on your property, among other factors. We can help you achieve your dream landscape to your total satisfaction. Our dedicated team will work closely with you throughout the entire process to ensure that you receive the results that you are desiring for your property.
R.W. Thompson Landscaping provides premier landscaping services and landscape design in Lexington, KY in order to give you the results you're looking for. Often, knowing exactly what you want can be difficult and change without a moment's notice, which illustrates the benefits that come with having the right landscaping company assist you with the overall design of your property.
More than just greenery is involved in bringing you the perfect landscaping, which is why the experts at R.W. Thompson Landscaping provide you with the widest range of hardscaping possibilities as well. From quality landscaping stones to more practical additions such as walkways and sitting walls, you can be sure that we have the selection of quality hardscaping choices needed to provide a beautiful finish. Every aspect of our landscaping services is dedicated to providing the perfect design. A consultation with our experts will demonstrate our capability to deliver on those ideas.
If you have a vision for your landscaping, R.W. Thompson Landscaping can bring it to life. If you do not have a vision, our team can create one. Whether you're looking to revitalize your current landscaping or completely redesign your yard, R.W. Thompson is the best value and top quality choice for all your landscaping needs.
When it comes to landscaping services and landscape design in Lexington, KY, R.W. Thompson Landscaping offers a proven track record of creative, quality landscape design. Our landscape architects constantly challenge themselves to find something new and different in their designs. Our landscape architects work with our clients from start to finish. This means our landscape designers will work with you from the initial design to the completion of the project. Our landscape experts are continuously on site to insure your landscaping is completed properly.
If you're considering having your front yard or back yard re-landscaped, R.W. Thompson Landscaping is definitely the company to call. We will meet you at your home and discuss your plans with you in person. We understand that you are entrusting your dreams to us and we take pride in turning your dream yard into a reality that will be enjoyed by you and your family for years to come.
Our expert team consists of highly trained landscaping professionals with knowledge in every aspect of landscaping services and landscape design. R.W. Thompson Landscaping is committed to delivering consistent, exceptional service regardless of your budget or size of the job. Our team is driven by a passion for creating beautiful outdoor spaces for our customers. We exceed client expectations with every project we take on.
R.W. Thompson Landscaping is dedicated to providing personalized and responsive customer service to all of our residential and commercial property owners. When it comes to the best landscaping services in Lexington, KY, nobody does it better than R.W. Thompson Landscaping. Contact our office at (859) 260-1122 or contact us by cell-phone at (859) 621-8587. Let your landscaping become the envy of your neighborhood.