No matter the size of your property, R.W. Thompson Landscaping in Lexington, KY can provide year-round landscaping services. R.W. Thompson Landscaping knows that keeping up your landscaping is an important part of home management. We have helped many homeowners in the greater Lexington area keep their landscaping looking its best all year long.
R.W. Thompson Landscaping makes your vision come to life. Whether you're looking to revitalize your current landscaping or totally renovate your yard, R.W. Thompson Landscaping is your best choice for all your landscaping needs. Our services include:
Spring clean-up
Fall clean-up
Mulching
Sod installation
Flower installation
Lawn service
Tree and plant installation
Custom garden design
Custom outdoor living
Patios
Pergolas
Stone & paver work
Fire pits
Retaining walls
& much more
Our team at R.W. Thompson Landscaping starts off by designing the perfect landscape for your project requirements. We are highly knowledgeable of the types of flowers and plants that grow in each type of soil and environment. We've acquired this expertise over two decades of serving homeowners in Lexington and surrounding counties.
R.W. Thompson specializes in both landscapes and hardscapes. Our experts can place all landscaping elements exactly where they should be placed, matching the specific needs of the homeowner. Once your landscaping is completed, it has to be taken care of properly to prevent plants from wilting. We offer maintenance services, including weeding and mulching, to make sure that your landscape continues to look good season after season. We can also plant new shrubs and plants in the process.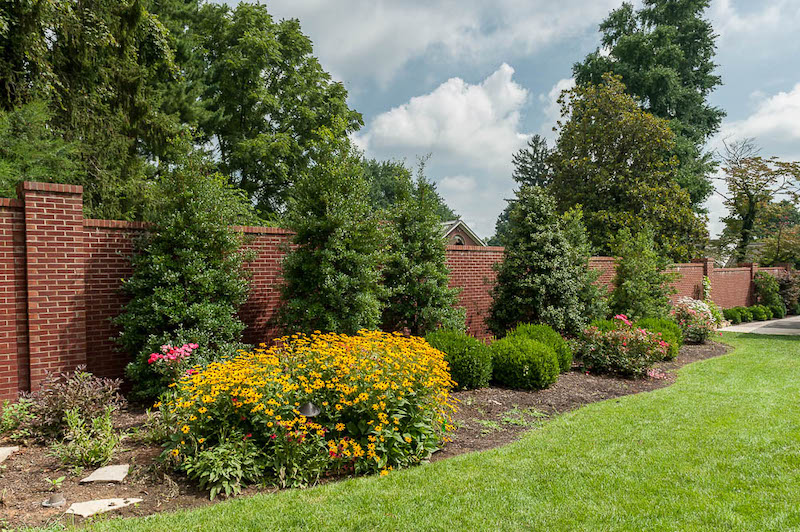 Every landscaping project is unique; our design solution will be specific to your site and reflect your vision and needs. Once the design process begins, we'll work with you through the installation and maintenance of your new landscape. We'll create a plan that facilitates your objectives and lifestyle.
R.W. Thompson Landscaping treats every landscaping project as if it were our own. Whether creating an outdoor living oasis or installing a rain garden to keep your soil from eroding, we will create and build a design that meets your needs, inspire your imagination and exceed your expectations.
The landscaping design process at R.W. Thompson Landscaping is unequalled in the area:
Prepare a site inventory of your property including all measurements and site conditions that might affect the final product.
Design a plan for your new landscaping or outdoor living area based on the information and ideas provided by the homeowner.
Present the design and bid; discuss the materials to be used for the project.
Finalize the landscaping plan, present the contract and determine the project start date.
After project completion, we offer annual maintenance services for your new landscape.
R.W. Thompson Landscaping in Lexington, KY strives to uniquely enhance the landscape of each site we have the pleasure of working on. We work with our clients to provide the highest quality landscape design concepts. Locally owned and operated, R.W. Thompson Landscaping serves our clients the best way that we possibly can. We never cut corners on quality. Our complete focus is on everything outdoor living.
Contact R.W. Thompson Landscaping at (859) 260-1122 or by cell-phone at (859) 621-8587.