When searching for garden designers in Lexington, KY, contact the landscape professionals at R.W. Thompson Landscaping. From the initial meeting to the installation and maintenance of a complete exterior environment, our hands on approach at R.W. Landscaping is sure to please. Each project and client is different and each design requires an individualized approach in order to assess the various possibilities of a garden.
Thoughtfully placed plants really add the crowning touch to a garden space, reflecting client style and personality and enhancing your home's architecture. Selecting appropriate plants, understanding horticultural plant maintenance and envisioning a garden at maturity are important aspects to consider when creating a planting scheme. Our talented staff is excited to create the perfect garden for your home.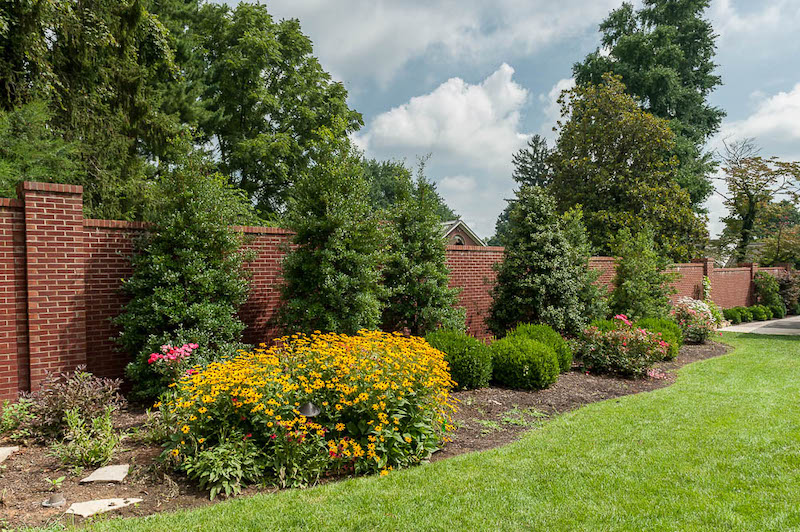 Gardens as unique as you are is what we do at R.W. Thompson Landscaping. Caring for our customers is how we do it. Our team at R.W. Thompson Landscaping has been creating, installing and enhancing gardens all over the greater Lexington area for over 20 years. As one of the most experienced landscape companies in Lexington, we have a reputation for creating signature gardens with the highest quality of customer care.
At R.W. Thompson Landscaping, we imagine new ways to use old spaces:
We plot the garden walk
We re-purpose existing landscapes
We fill unique spaces with unique plants
We create gardens both large and small
We place the stones and build the hardscape
We design classic elegance in contemporary and traditional gardens
We manage the project from start to finish
R.W. Thompson Landscaping provides design direction and an array of proven garden features and elements to build on your vision. We take your thoughts and create a beautiful garden for your landscape. We take everything into account when adding plants, earth, stone and water. Our years of experience designing landscapes and gardens have given us some truly beautiful garden design examples and some very happy customers.
When it comes to garden design in Lexington, KY, it's our goal to have you surrounded by vivid colors in each season and the plant selection will contribute to the long-term health of the property as a whole. Our design team is ready to craft a vibrant and original garden landscape design that will only gain in beauty as it matures. At R.W. Thompson Landscaping, we'll work within your preferences to select a range of species that create a distinctive atmosphere and harmonize with your home. Our designers will be a passionate counterpoint to your inspiration, using their experience and knowledge to help you get the most value out of the plants you select for your home and garden.
There are many ways to transform an ordinary space into the garden of your dreams with R.W. Thompson Landscaping. Your backyard or front yard area offers many opportunities. Reach out to us whenever it is convenient for you and share your ideas with us. We will then give you a plan to suit your individual preferences and vision. We can start from scratch or use existing greenery if you prefer.
When searching for garden designers in Lexington, KY, call the landscape professionals at R.W. Thompson Landscaping. Contact our office at (859) 260-1122 or contact us by cell-phone at (859) 621-8587.