For backyard patio designs in Lexington, KY, contact the landscape professionals at R.W. Thompson Landscaping. Patios are an essential aspect of any hardscape, stonescape and landscape project. R.W. Thompson Landscaping has created an amazing portfolio of patios for our clients. Our patios range from small to extremely large with the use of concrete, stone, flagstone, brick, pavers, travertine and slate.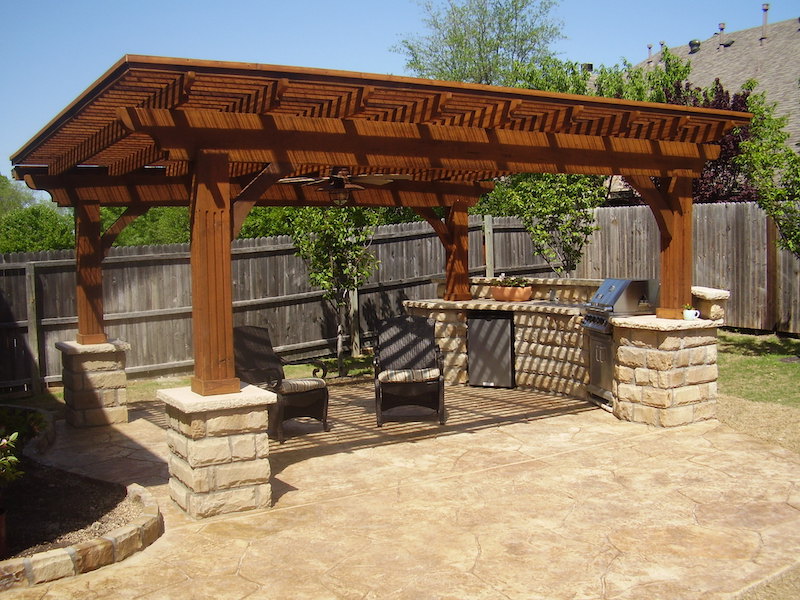 Patios can be installed in a variety of materials based on your aesthetic preferences, intended use and budget. The design options are endless. When you call R.W. Thompson Landscaping, our patio professionals will sit down with you and discuss the pros and cons of the most popular patio projects to help you find the material that's right for you.
With over 20 years of experience, R.W. Thompson Landscaping is one of the area's premier backyard patio contractors. We work hard to make our clients happy, listening closely to their specific preferences and serving them well. We will do everything we can to go above and beyond in work ethic, design quality, construction and attention to detail. We only use the highest quality materials for all of our patio projects.
R.W. Thompson Landscaping knows what it takes to install gorgeous backyard patios and other outdoor living areas in the greater Lexington area. If you are looking for a practical way to expand the outdoor living space of your home and take full advantage of your beautiful backyard, investing in a new patio is a terrific option. Our highly trained team specializes in installing everything including pergolas and fire-pits and we will gladly work with you to determine the best option for your home to suit your needs.
Backyard patio designs in Lexington, KY have come a long way from the boring, square concrete slabs of yesteryear. Today, we can incorporate a patio or hardscape design into the overall plan of your home and landscape creating an outdoor living space that's exactly suited to your particular needs. When planning the ideal patio, many homeowners want to add another hardscape structure or two, creating a complete outdoor area.
One of the fundamental building blocks of good landscape design is the patio, which needs to be carefully planned around how you want to use the space. Whether small enough for a grilling area or large enough to accommodate a party of one hundred people, R.W. Thompson Landscaping will work with you to provide the space you need. We'll design and build a patio that blends with the existing conditions to create something truly wonderful.
In working with R.W. Thompson Landscaping, we'll make sure that your dream backyard patio becomes a reality. Our team is creative, experienced and flexible enough to meet the demands of any homeowner's vision. No matter the size of your backyard, a R.W. Thompson Landscaping design will give it a touch of luxury and feeling of comfort.
Backyard patios are the perfect spot for entertaining guests, having outdoor dinner parties or just relaxing while taking in the beauty of your backyard. There are so many materials available for your patio that it can be overwhelming to nail down your selection. Not only are today's pavers beyond basic brick colors and rectangular shapes, the stone options are seemingly endless. That's where we can help at R.W. Thompson Landscaping.
From envisioning a custom-crafted backyard patio to design to installation, the R.W. Thompson Landscaping team works tirelessly to create a beautifully sculpted outdoor oasis with the perfect balance of visual diversity, comfort and functionality. R.W. Thompson Landscaping offers a wide variety of offerings to make your backyard patio vision a reality. We invite you to explore how our team of outdoor design experts will be with you every step of the way to create a meaningful exterior space for your home.
From the initial meeting to the installation and maintenance of a complete exterior environment, our hands on approach at R.W. Landscaping is sure to please. Each project and client is different and each design requires an individualized approach. When searching for backyard patio designs in Lexington, KY, call R.W. Thompson Landscaping. Contact our office at (859) 260-1122 or contact us by cell-phone at (859) 621-8587.